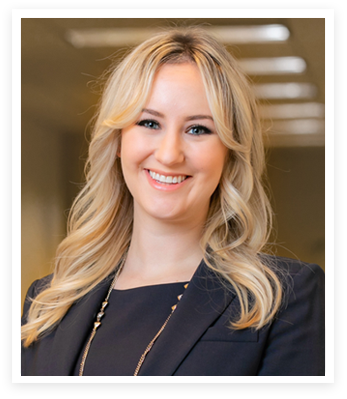 Kathrynn Benson is an associate attorney at Carlson & Jayakumar practicing employment and healthcare litigation. Ms. Benson brings a wealth of experience in business and corporate litigation, intellectual property, and tort matters, including fraud, economic torts, and government contract disputes. She advocates for her clients at every step of litigation, from inception into the pre-trial and appeal stages and has participated in arbitrations before the International Chamber of Commerce and American Arbitration Association, defeated several high-stakes dispositive motions, and secured a seven-figure judgment verdict in her very first trial as second chair.
Prior to joining Carlson & Jayakumar, Ms. Benson worked at premiere litigation firms in Southern California and Washington, D.C., handling commercial and white-collar civil disputes in both federal and state courts. Before private practice, Ms. Benson served as a judicial extern for the Honorable Manuel L. Real of the United States District Court for the Central District of California.
Ms. Benson obtained her Juris Doctor from Loyola Law School, where she served as the Editor-in-Chief of the Inter-American Court of Human Rights Project of Loyola's International & Comparative Law Review. Ms. Benson also holds a Bachelor of Arts degree in Political Science & Government from UCLA, where she graduated with honors, cum laude, in 2013, and was admitted to Phi Beta Kappa, Alpha Lambda Delta Phi Eta Sigma Honor Societies, and the Golden Key Honor Society.
Outside of her law practice, Ms. Benson serves as a director and officer of the Southern California Guinea Pig Rescue.
Loyola Law School (J.D., 2016)
University of California, Los Angeles (B.A., Political Science, cum laude, December 2012)
Associate, Carlson & Jayakumar LLP, 2022-Present
Associate, Siddiqui Law, APC, 2018-2022
Associate, Marino Finley, LLP, 2017-2018
Attorney, Nexio, PC, 2016-2017
All California State Courts
United States District Court for the Central District of California
United States District Court for the Northern District of California
United States District Court for the Eastern District of California
California State Bar Association
Orange County Bar Association
Orange County
2424 S.E. Bristol St., Suite 300
Newport Beach, CA 92660
(949) 222-2008 – Phone

Los Angeles
500 S. Grand Ave., Suite 2050
Los Angeles, CA, 90071
(213) 613-1683 – Phone